As part of the extensive support network CBCI offers its patients, CBCI also participates in a healing arts program. Founded by Cynthia Lockhart, Soul's Palette Arts provides healing arts services to extended stay hospital patients. With over thirty years of experience in the arts world as an educator, therapist, and supervisor, Cynthia Lockhart has brought her expertise to this therapeutic program.
Soul's Palette Arts focuses on giving patients creative means through which to cope with and relieve their stress. The simple act of coloring lowers blood pressure and raises serotonin. This heightened serotonin level then relaxes the patient, similar to meditation. Through the creative process, patients are able to push their worries and fears aside.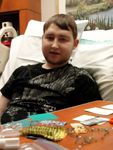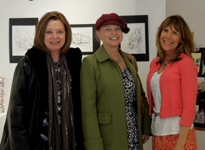 A staff of 15 to 20 people allows the program to reach out to many patients and give one-on-one attention. Staff members and volunteers sit with patients and assist with projects. They offer encouragement and get patients involved in activities.
All participants in the program receive a Healing Arts Notebook. It contains the tools they need to engage their creative processes and so achieve a more relaxed mental state. By arming patients with this toolkit, they have a coping mechanism on hand 24/7. Soul's Palette Arts also provides monthly prompts that patients can answer through writing or a variety of different mediums.
Cancer patients and those undergoing bone marrow transplants endure an incredible amount of emotional stress. The mission of Soul's Palette Arts is to encourage patients and caregivers to explore the healing and life-enhancing effects of creativity.
Visit The Soul's Palette on Facebook