Back to Listing
Rob Zeis
Posted on: 04/13/2016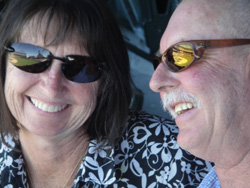 Martha Berry, Caregiver
As I reflect back on the past two years, the one thing I am certain of is that our lives were upended and changed forever. It was just two years ago Feb. that we checked into P/SL. Our experience at our local health facility had left us scared and determined to find the best care possible for Rob. We chose P/SL because Dr. Brunvand agreed to take Rob as a patient after the local oncologist consulted with him. We left our home town at 5:30 in the morning, drove over the mountains to Denver and Dr. Brunvand was talking with Rob by 2:00 pm. Between that time the staff on the 4th floor,comforted, guided, educated and settled us in to what I was to call the chemo floor. From that day on Rob had nothing but the very best care and attention. One difference in care was that I too was attended to, I was given a cot and linens, the nurses always asked if there was anything I needed. (The CNA Cherella is an angel!) The social worker came by and talked with us and we took full advantage of the psychologist. He came by to see us twice a week and we talked openly. He gave us some wonderful tools to use so that we could stay calm and present. Rob and I were both so impressed that P/SL addressed us as a "team". It brought Rob great comfort to know that I was included in the care plan. It eased his mind and allowed him to focus on his healing. P/SL has an integrated and total care plan for the treatment of this life threatening illness
Once Rob headed to transplant, we geared up,again. The CBCI/PSL team met with me regarding the financial aspects including housing needs since we lived out of town. We had interviews with the social worker and psych people.
One meeting that was really important, that I requested, was a meeting with Athena Y. Baca-Chieza and Megan the NP and Rob's three adult daughters. I asked for it so that his girls could be informed and in the loop and so that they would have contact numbers and faces to call upon if they needed to. All three daughters attended, reluctantly. The meeting was a tremendous success. The girls felt empowered, informed and they kept saying how impressed they were that their Dad had such a great team taking care of him. From that meeting forward, we were all on the same page and were able to support each other fully. I would highly recommend offering such a meeting with family members as a component of the program.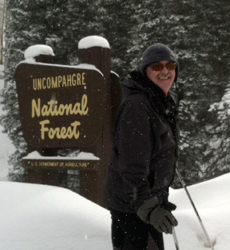 I was fortunate enough to be asked by Teri Simoneau to participate in the CareWell study. I am certain the intervention I received taught me to recognize Caregiver stress and gave me useful techniques to deal with the stress. I met with Janet Spradley on 8 different sessions. These meeting held so many benefits for me. I felt supported and I learned life tools to use for myself and my family. Rob has had set backs along the way and I have been so grateful to be able to draw upon these stress management techniques. I would highly recommend this type of one on one intervention for all caregivers. Group caregiver meetings are great for some folks but for me, the one on one intervention allowed me to focus on our journey and not be distracted by other caregivers and their problems/crisis. Thank you so much for the help and the education. Janet was quite an amazing professional.
I would never wish an AML diagnosis on anyone or their loved one but the experience that Rob and I had at P/SL was so positive despite the difficult journey. Keep up the great work you all do everyday. Always remember the efforts absolutely do make a difference for the patient and for the family.
Posted on: 04/13/2016